Wondering how to implement Chronic Care Management?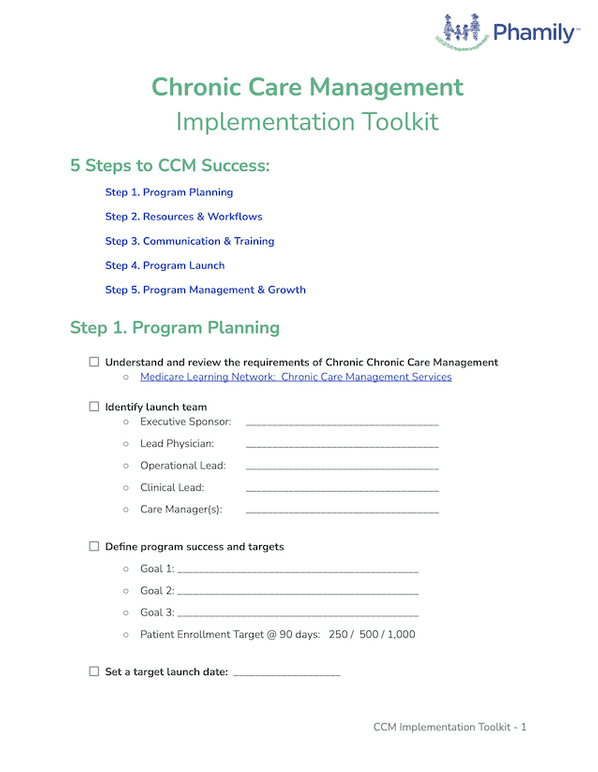 Phamily practices manage 500 CCM Patients per FTE.
National average is 44 patients. 
Example: We recently helped a practice launch a CCM program.
Within the first 60 days…
We helped them enroll 932 patients.
In their second month, 758 patients qualified to bill for CCM (CPT 99490), and 101 patients qualified for Complex CCM (CPT 99487), generating $40,000 in new monthly reimbursement.
Chronic Care Management made simple, scalable, and 5-10x more profitable.
Sustainable Quality Care That Puts Patient Relationships and Experience First...
"At Silver Cross, our primary mission is "caring for our community." My job is to make sure we meet that fulfill that mission across our patient populations and practice groups, and do it in a sustainable way. That's why the first time I saw the Phamily platform I immediately recognized the flexibility and potential it had for population health delivery… In just a few months we've enrolled more than 3,200 Medicare patients and plan to reach 5,000 by September… The program is fully self-sustaining and our patients, providers, and leadership all love it."
Trusted by leading medical groups – big & small