Increase Practice Revenue and Profitability
Phamily is the best way to run your Chronic Care Management Program
Practices that use Phamily can generate over $300 per patient in extra profit yearly.
Get a free copy of our CCM Implementation Toolkit and 2022 Reimbursement Codes. 
Chronic care management
2022 Billing Codes and Summary
Chronic Care Management (CCM) is a new Medicare program that  reimburses an additional $41-$177+ per patient per month  for the support you and your staff regularly provide patients between visits, e.g. answering questions, refills, referrals, labs, follow-up phone calls, etc.
Increase # of CCM patients from 50 to 500 per clinical staff member

Cover your overhead costs:

 get reimbursed for the work your clinical staff currently does for free
Drive your monthly reimbursement up by at least $17,000 while improving quality of care
Within the first 60 days...
Phamily practices manage 500 CCM patients per FTE.
Example: We recently helped a practice launch a CCM program.
932 Patients
We helped them enroll 932 patients.
758 Patients
Qualified to bill for CCM (CPT 99490), and 101 patients qualified for Complex CCM (CPT 99487)
+$40k
New Monthly Reimbursement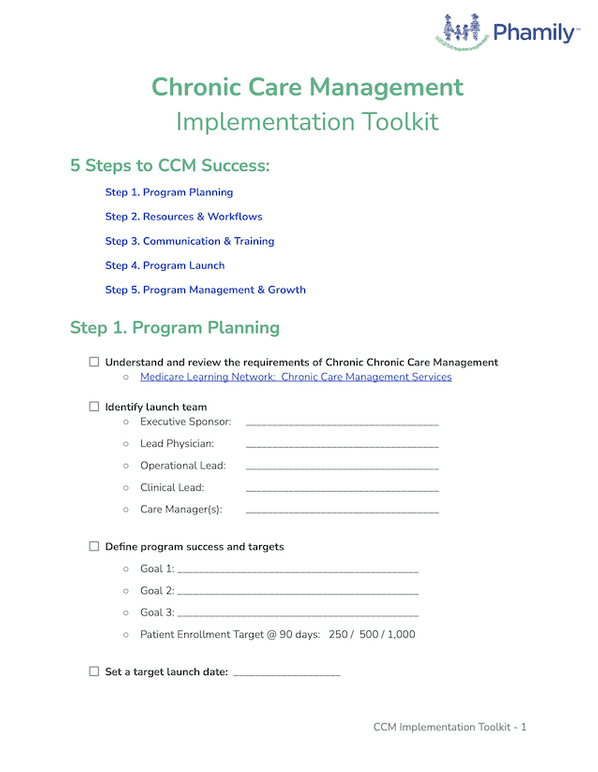 Sustainable Quality Care That Puts Patient Relationships And Experience First...
"At Silver Cross, our primary mission is "caring for our community." My job is to make sure we meet that fulfill that mission across our patient populations and practice groups, and do it in a sustainable way. That's why the first time I saw the Phamily platform I immediately recognized the flexibility and potential it had for population health delivery… In just a few months we've enrolled more than 3,200 Medicare patients and plan to reach 5,000 by September… The program is fully self-sustaining and our patients, providers, and leadership all love it."
Get Your Free Copy Of The CCM Codes & Reimbursement Fee Schedule​