Chronic Care Management guidelines
2024 Chronic Care Management (CCM) CPT Codes
Practices that use Phamily can generate over $300 per patient in extra profit annually.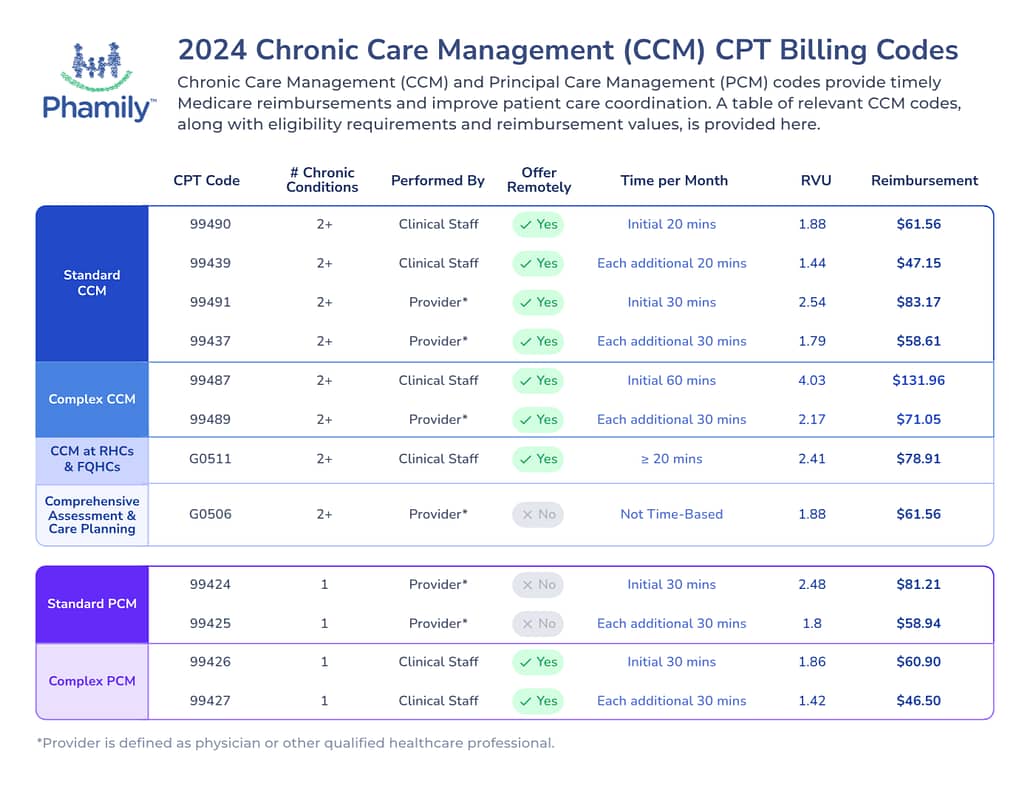 2024 CCM CPT Codes
Chronic Care Management Billing Codes Summary​
Chronic Care Management (CCM) is a new Medicare program that offers significant monthly reimbursement for the time providers and their staff spend helping patients between office visits.

CCM reimburses an additional $64-$177+ per patient per month for the support you and your staff regularly provide patients between visits.
CMS continues to increase the number of Chronic Care Management codes providers can bill for. Starting with just one code in 2015, CPT 99490, the Physician Fee-Schedule now includes 8 codes accounting for various levels of complexity and time.
20+ minutes of care management outside of office visits performed by clinical staff

Care plan established and regularly reviewed
CPT 99439 – Non-complex Add on
Additional 20 minutes of "non-complex"

CCM Reportable up to 2x per month (after 99490)
60+ min of care management outside office visits
Care plan created and/or significantly revised
Billed incrementally for each additional 30 minutes spent beyond the first 60 minutes for Complex CCM case
HCPCS G0511 – RHC or FQHC
20+ minutes of CCM or behavioral health integration services directed by a provider at a Rural Health Clinic or Federally Qualified Health Center
HCPCS G0506 – Comprehensive Assessment & Care Planning
Patient enrolled in person Systematic assessment & care planning personally performed by the billing provider

Add-on code to the standard E&M code (99212-99215), AWV or IPPE initiating visit
CPT 99491 – Physician-provided CCM
30+ minutes of care management outside of office visits
Provided personally by a physician or other qualified healthcare professional
CPT 99437 – Physician-provided CCM Add-on
Additional 20 minutes of care management outside of office visits

Provided personally by physician or other qualified healthcare professional
get reimbursed
Activities you already perform everyday